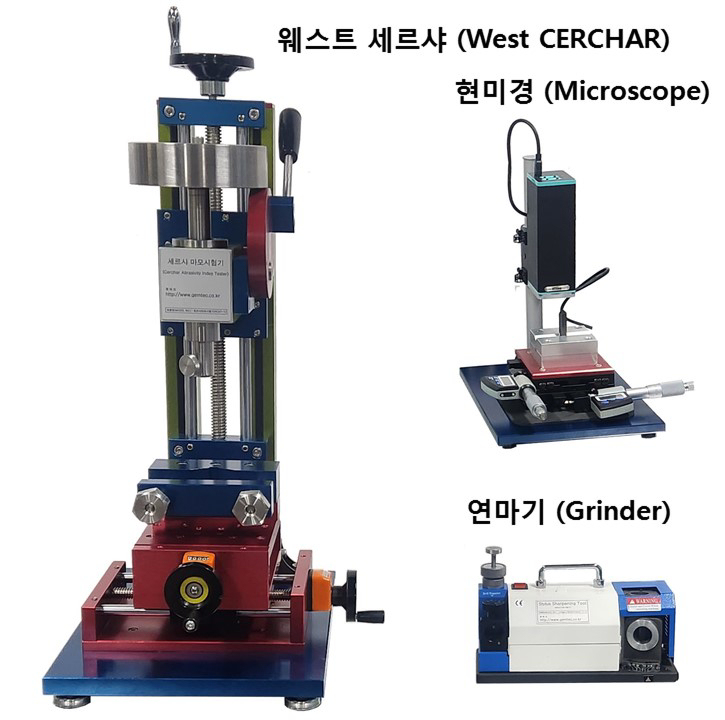 This product is manufactured according to the requirements of the 2022 edition, ASTM D7625-22.
본 제품은 2022 년 판인 ASTM D7625-22 의 요구사항에 맞추어 제작된다 .

Designation: D7625 − 22
Standard Test Method for
Laboratory Determination of Abrasiveness of Rock Using the CERCHAR Abrasiveness Index Method
( 세르샤 마모도 지수(CAI) 방법을 사용한 암석의 마모도의 실험실 결정을 위한 표준 시험방법)
ASTM : American Society for Testing and Materials, 미국재료시험협회
https://www.astm.org
CERCHAR : Center d ' Études et Recherches des Charbonnages; 프랑스의 탄광 연구탐색센터
Product Features 제품 특징
The main parts of this instrument are made of stainless steel or duralumin to create a pleasant and refreshing laboratory environment and improve durability, and other parts are coated to prevent corrosion.
본 기기는 쾌적하며 상쾌한 실험실 환경의 조성과 내구성의 향상을 위하여 주요 부품들이 스테인리스 강 또는 두랄루민으로 만들어졌으며 그리고 그 외의 부품들도 부식의 방지를 위하여 피복되어있다 .